Storm Safety Tips
10/25/2018 (Permalink)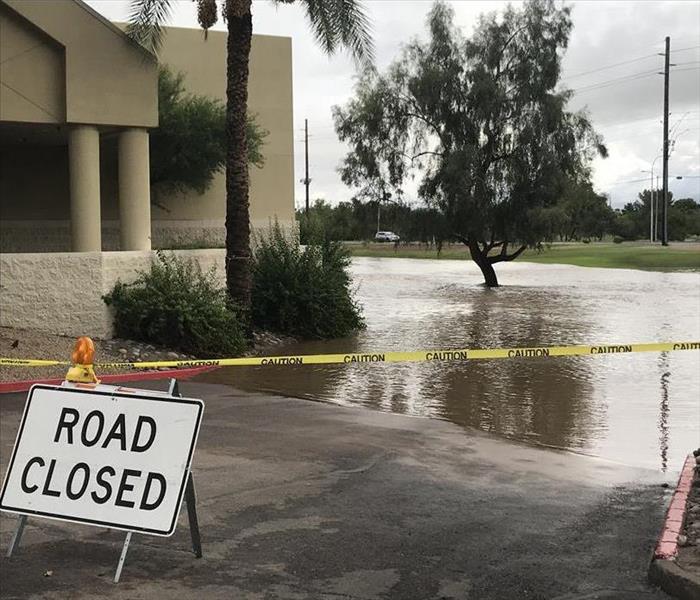 Flooded roadways like this were seen during recent storms here in Avondale, Goodyear and Southwest Phoenix.
The monsoon season has officially wrapped up here in Avondale, Goodyear and Southwest Phoenix. We saw quite the storm activity in the Greater Phoenix area which led to dust storms and record rainfalls causing flooded roadways, knocked down trees and power-lines. Because of this, many homes and businesses experienced massive amounts of water and mold damage due to these heavy storms. Here at SERVPRO, we decided to put together some information regarding storms here in the Valley and how you and your family can be safe during one.
Make sure to clean out your roof drains so that rain can properly drain to prevent water from collecting on your roof.
Take time to trim trees around your home to prevent them from breaking and possibly falling on your home or vehicle.
Secure outdoor furniture to prevent them from blowing away during heavy winds. Make sure children's playground equipment is secured to the ground and any smaller outdoor furniture items are stored indoors or in your garage.
It's always helpful to have weather alerts enabled on your mobile or desktop devices so you're notified of an approaching storm and can prepare in advance.
If your home or your businesses is in a low elevated area, consider stocking up on sandbags to prevent flooding from entering your building structure.
Avoid travelling during a storm at all costs, especially here in Phoenix as roadways can flood quickly. If you see a flooded road, do not try and drive through. It's best to turn around and find an alternate route or pull over and wait for the storm to pass before getting back on the road.
Monsoon season has officially passed but that doesn't mean we won't see a few scattered storms here and there. It's best to apply these storm safety practices to ensure you and your loved ones are safe. If you are experiencing water damage or mold damage caused by storms, you can call SERVPRO of Avondale/Goodyear/Southwest Phoenix at (623) 537-9999. We're always here to help.